Building Supplies for Home Owners and Builders
Shop local to pick up building supplies for your home projects. Zak's Home Hardware Building Centres in Hague and Warman, Saskatchewan, have the materials—and the advice—you need.
Family owned and operated, Zak's Home Hardware Building Centres have all of your home building, hardware and renovation needs. Buy lumber, supplies and tools for every type of home or cabin building or DIY project. Visit our Home Expressions for home decor, gifts, kitchenware, small appliances and so much more. In summer, visit our Garden Centre for plants, yard-scaping and gardening tools and accessories.
AND, as of Jan 9th, 2023, a NEW Home Hardware location in Sutherland, Saskatoon! Although not a Building Centre, Zak's Home Hardware Saskatoon can help you maintain, clean, organize, paint, and decorate your home. Come visit us!
Scene+ now at Home Hardware locations!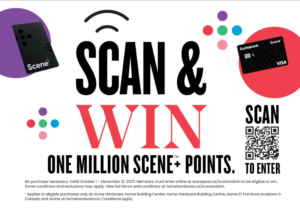 What's your project?
Your local Zak's Home Hardware Building Centre in Warman or Hague (and now Saskatoon!) has the materials and the advice to help you get it done:
Find quality lumber – and leading lumber prices – for any project
Hardscape your yard with durable concrete pavers for landscaping
Shop for flowers, trees, shrubs, decor, mowers and trimmers at our Garden Centre
Choose from tile, hardwood, carpet and laminate flooring options, with installation
Buy functional, energy-efficient and decorative windows and doors, with installation
Build your own mini-spa at home with our high-quality bath and plumbing products
Light up your home with interior and exterior lighting fixtures and electrical supplies
Give your kitchen and workshop a facelift with our custom cabinetry
Find the best in building supplies and high-quality, low-warp lumber
Manage your livestock with gates, posts, fencing and farm supplies
Equip yourself with brand-name tools for every kind of build or renovation
Add a finishing touch with Beauti-Tone interior and exterior paints, stains and accessories
Order Online and Pickup In Store
If you'd like to have an item delivered to our store for free pickup, check out the Home Hardware website and select delivery to our store, where you can pick up at your convenience.
New Zak's Home Hardware flyers for Hague, Warman, and Saskatoon come out every Thursday!
HAGUE HOME HARDWARE LOCATION
101 South Access Road
Box 5 Hague, Sk.
S0K 1X0
Phone: (306) 225-2288
Fax: (306) 225-4438
Get Directions
Monday – Friday   7:30 am to 5:30 pm
Saturday                9:00 am to 4:00 pm
Sunday                   CLOSED
WARMAN HOME HARDWARE LOCATION
380 Stonegate – 930 Centennial Boulevard
Warman, Sk.
S0K 4S4
Phone: (306) 933-9000
Fax: (306) 933-9010
Get Directions
CONTRACTOR ENTRANCE:
Monday to Friday: 7:30 am to 5:00 pm
MAIN ENTRANCE:
Monday – Friday       8:00 am to 7:00 pm
Saturday                   9:00 am to 6:00 pm
Sunday                     9:00 am to 5:00 pm
SASKATOON HOME HARDWARE LOCATION
916 Central Avenue
Saskatoon, Sk.
S7N 2G8
Phone: (306) 374 5515
Get Directions
HOURS:
Monday – Friday                       8:00 am to 7:00 pm
Saturday & Sunday                  9:00 am to 5:00 pm
AWARD WINNING
2016 Home Hardware Proud of My Home Achievement Award
2019 Home Hardware Proud of My Home Achievement Award – Best HHBC under 15K sq ft
2020 Home Hardware Proud of My Home Achievement Award –  Best Young Retailer Award Wyatt Zacharias
2020 Home Hardware Outstanding Retailer Award
2020 WMBEXA Business Excellence & Resilience Awards Finalist, Customer Service
2020 – 2021 Sasktel & Saskatchewan Waste Reduction Council Waste Management Award, Small Business
2021 WMBEXA Business Excellence & Resilience Awards Finalist, Business Champions
2021 WMBEXA Business Excellence & Resilience Awards Finalist, Community Champions
2022 Prairie Sky Business Excellence Awards Finalist, Business of the Year
2022 Prairie Sky Business Excellence Awards Finalist, Employer of the Year
2022 Prairie Sky Business Excellence Awards WINNER, Community Involvement
2023 Prairie Sky Business Excellence Awards Finalist, Business of the Year
2023 Prairie Sky Business Excellence Awards Finalist, Employer of the Year
2023 Prairie Sky Business Excellence Awards Finalist, Business Marketing